Category:&nbspStar System | Tags: Black Jack Cast • Don Dracula Cast • Secondary Stars • The Doctors

Also known as フーラー博士 (Fūrā hakase)
---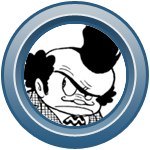 Status: Secondary Star (★★)
Dr. Fooler is another of Tezuka's mad scientists.  Childish, both in his appearance and in his behavior, he is nosy and pushy and often worms his way into business he should not be part of, or pushes forward ill-conceived scientific projects against the better judgment of wiser scientists.
He appears frequently in Astro Boy (1952-68), though generally not as a villain but rather as the accidental cause of great calamities.  However, he is probably best known for his recurring roles as Dr. Kani in Black Jack (1973-83) and as Dracula's hemmorhoid-plagued, vampire-hunting arch-nemisis, Professor Hellsing in the comedy Don Dracula (1979).
Hello, My Name (in English) is…
Coming Soon!
Distinguishing Features
Dr. Fooler is recognizable by his short, squat frame and round, mainly bald head with just a tuft of hair.
Manga Appearances
If you spot an appearance not already listed, please let us know in the comments section below!
1958
Astro Boy ("Mad Machine")
Astro Boy ("Count Bat")
---
1966
Flying Ben as "a member of the monkey boss attack squad"
---
1974
Black Jack ("Teratoid Cystoma") as "Dr. Kani"
Black Jack ("Thieving Dog") as "the bodyguard of the ambassador from Kainan Republic"
Black Jack ("Pinoko Lives") as "Dr. Kani"
---
1975
Astro Boy ("Astro Boy II") as "a scientist at the Ministery of Science"
---
1976
Black Jack ("Unexploded Bomb") as "the man bringing the invitation to Itachihara"
---
1977
The Three-Eyed One ("Godal") as "the cook"
Black Jack ("Recollections of a Spinster") as "Dr. Kani"
---
1978
---
1979
Don Dracula ("Well, I'm Dracula") as "Professor Hellsing"
Don Dracula ("Dracula Meets the Fish-Men") as "Professor Hellsing"
Don Dracula ("Dracula, By All Means") as "Professor Hellsing"
Don Dracula ("Another Dracula") as "Professor Hellsing"
Don Dracula ("Dracula Train") as "Professor Hellsing"
---
1980
Astro Boy ("The Robot Disposer") as "Dr. Fooler"
Astro Boy ("Crazy Duck")
Astro Boy ("Showdown on Mt. Fuji")
---
1981
Rainbow Parakeet ("Hamlet")
Rainbow Parakeet ("Who's Afraid of Virginia Woolf?") as "the theatre critic"
---
1982
Rainbow Parakeet ("End") as "the doctor"
---