Category:&nbspTV Series
Also known as 青いブリンク (Aoi Burinku)
---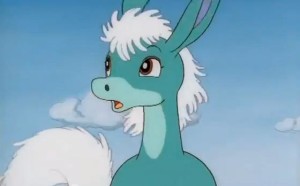 English Title:
Blue Blink
In English?
No
Japanese Title:
青いブリンク
[Aoi Burinku]
Type:
Television Serial
Originally aired:
1989/04/07 – 1990/03/16
Broadcaster:
NHK
Episodes:
39 (Colour)
Blue Blink (1989-90) was an anime series first broadcast on NHK General TV from April 7, 1989 to March 16, 1990.  Unlike most of Tezuka's animated series, Blue Blink (1989-90) was an original story, and was not based on a corresponding manga series – much like his earlier Astro Boy (1963-66) remake, Jetter Mars (1977).
What it's about
One stormy, summer day, a young boy named Kakeru stumbles across a strange blue ball and decides to bring it home show it to his father, Haruhiko Shiki.  They soon discover the blue ball is actually a mysterious blue pony named Blink – an electric "thunder beast" who possesses magical powers.  With Kakeru and his father's help, Blink recovers from his injuries and, out of gratitude, vows to helps Kakeru whenever he's in trouble – as long as he calls Blink's name three times.
Soon after, Kakeru's father gets kidnapped by the evil Emperor Gross who fears being overthrown once a news story that Haruhiko has been working on is published.  So, it's up to Kakeru and Blink to rescue his father.  During their journey, Kakeru and Blink meet new friends who join them in their quest to find Kakeru's father – including Kirara, a spoiled six-year-old princess, Tanba, a strong bus driver with a soft spot for young women, and two bumbling brothers named Nitichi and Satchi.  Together, Kakeru, Blink and his friends' adventures take them to a variety of places that bear an uncanny resemblance to the places that his father wrote about in his stories.
What you should know
Blue Blink (1989-90) is one of the rare Tezuka animated series not to be based on one of his manga.  However, like many of his works, it finds its inspiration in classic literature.  In this case Tezuka looked to the 1947 animated film The Humpbacked Horse (Конёк-Горбуно́к), directed by a well respected Soviet/Russian animator: Ivan Pyetrovich Ivanov-Vano. Of course the animated film was, in turn, based on a classic Russian fairy tale poem of the same name. The Humpbacked Horse was written by author and poet Pyotr Pavlovich Yershov (1815-1869), who wrote the fairy tale in 1834 when he was 19 years old.  Although now viewed as a classic, it is interesting to note that it was criticized and banned during the mid-19th century because it satirized Russian feudalism and generally portrayed the Tsar in a negative light.
Although Osamu Tezuka was responsible for the main character designs, the overall plot, the pilot and the storyboards, he unfortunately passed away on February 9, 1989, while Blue Blink (1989-90) was still being developed. At the time of his passing, only the plans for the first five episodes were completed. Yet, in spite of Tezuka's death, the staff continued working on Blue Blink (1989-90) without him and, in the end, a total of 39 episodes were produced and broadcast.
Also interesting to note, soon after the last episode was broadcast (March 16, 1990), a Blue Blink action video game for the PC Engine was released.  The game was developed by Hudson Soft and was released on April 27, 1990.
What else you should check out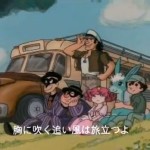 Also known as 青いブリンク (Aoi Burinku ) Watch the first episode now of Viki! Broadcast Information Broadcast: April 7, 1989 to March 16, 1990 Broadcast on: NHK General TV No. of Episodes 39 Format ...