Category:&nbspStar System | Tags: Secondary Stars

Also known as ケリガン (Kerrigan)
---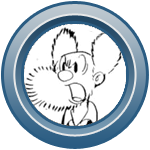 Status: Secondary Star (★★)
Kerrigan's elderly appearance makes him a natural to be cast in guardianship roles, but his moody disposition, which swings from gruff to kindly, means the tone of his appearance differs considerably from story to story.  So while he has made a career out of playing protective father figures, they have come in a wide range of roles.
Although he first appeared in The Tutelary God's Fire (1950), it is his role as Cactus Sam's adoptive father Chad's longtime friend "Kerrigan", in Mr. Cactus (1951-53) from which his stage name is derived.  He also had a memorable role as the father of Rumiko, Astro's first love, in the Astro Boy (1952-68) chapter "Sea Serpent Island" (1953).  It is interesting to note that when this chapter was first serialized, the role or Rumiko's father was played by Shunsaku Ban, who was cast to play his own, younger, look-alike brother – meaning he appeared in two separate roles in the same chapter.  However later, when this chapter was collected in a tankōbon (standalone book), the role was played by Kerrigan instead.  So, while Shunsaku Ban's busy work schedule may have had some impact on the decision, it demonstrates  Tezuka's confidence in Kerrigan that he offered him a role in which he'd previously cast one of his biggest Stars.
Sharp-eyed readers will also spot Kerrigan as the King of Troy in the Phoenix [Shojo Club] (1956-57) chapter "Greece" (1956), and as a pirate among Captain Blood's crew in Princess Knight [Nakayohsi] (1963-66), and in several other manga appearances.
Hello, My Name (in English) is…
No particular meaning/reference known.
Distinguishing Features
A spritely grandfather, Kerrigan can easily be spotted by the two "rabbit ear-like" tufts of white hair on either side of his otherwise bald head, and his large beard resembling dandelion fluff.
Manga Appearances
If you spot an appearance not already listed, please let us know in the comments section below!
1950
The Tutelary God's Fire
---
1951
Mr. Cactus as "Chad's old friend, Kerrigan"
---
1953
Astro Boy ("Sea Serpent Island") as "Rumiko's father"
The Bean President
---
1954
Astro Boy ("Expedition to Mars") as "the university professor"
The White Rose of the Railway
---
1955
Chief Detective Kenichi ("The Case of the Gorilla") as "one of the people being chased up a pole by the lion"
---
1956
Phoenix [Shojo Club] ("Greece") as "the King of Troy"
---
1957
Lion Books ("Multiple-eyed Devil")
Manga Astronomy as "the planetarium operator"
---
1958
The Three Who Glimpse the Future as "a doctor"
---
1959
The Devil Garon
---
1960
Captain Ken
---
1961
The Story of the Dawson Family
---
1962
Astro Boy ("Robot Land") as "the man who delivers a message to Shunsaku Ban"
---
1963
Princess Knight [Nakayoshi] as "a pirate"
---
1978
Black Jack ("Drifter in a Ghost Town") as "one of the ranchers"
Black Jack ("The Sea Smells of Romance") as "one of the sailors"
---