Category:&nbspManga : Seinen Manga | Tags: Adventures • Available in English • Later Works • Ongoing Serials • Weekly Bunshun

Also known as アドルフに告ぐ (Adolf ni Tsugu)
---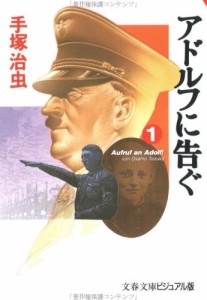 English Title:
Message to Adolf
In English?
Yes
Japanese Title:
アドルフに告ぐ
[Adolf ni Tsugu]
Type:
Ongoing Serial
Original run:
1983/01 – 1985/05
Published in:
Weekly Bunshun
[週刊文春]
Published by:
Bungeishunju
Volumes:
5 (MT-372 | MT-373
MT-374 | MT-375
MT-376)
Another of his adult-oriented dramas, Message to Adolf (1983-85) was originally published in the magazine journal, Weekly Bunshun, between January 1983 and May 1985.  Similar in tone to MW (1979), it is considered Tezuka's final, completed, epic work.
What it's about
Set in both Japan and Germany during World War II, the story opens in 1936, as a Japanese reporter named Sohei Toge travels to Germany to cover the Berlin Olympic Games and to visit his younger brother.  His brother, Isao Toge, an international student contacts Sohei and arranges to see him but is murdered before they meet.  Afterwards it becomes clear to Sohei that his brother was killed due to his involvement in a conspiracy concerning a secret document regarding the birth of Adolf Hitler.
Meanwhile, Wolfgang Kaufmann, a Nazi working for the German Consulate General in Kobe, Japan, is searching for the document under the orders of the German government.  Kauffmann has a son named Adolf, whom he wants to join the Hitler Youth and become a hard-line supporter of Adolf Hitler.  However, since Adolf Kaufmann's closest friend is a Jewish boy (also) named Adolf Kamil, he does not wish to follow his father's murderous ideology.
As the story unfolds, the paths of the three Adolfs intertwine and become more and more twisted.  Friends become foes, and secrets abound as Sohei continues his search for the missing document… which he is sure is the key to unlocking the identity of his brother's killer.
What you should know
Considered to be Osamu Tezuka's last great work, Message to Adolf (1983-85) was commissioned at the request of one of his editors who wanted to see a "thoroughly serious drama" – and this one certainly delivered the goods in that regard.
Message to Adolf (1983-85) is one of Tezuka's most serious and realistic manga dramas, and incorporates scenes of torture, rape and genocide.  Which is not surprising for a series set against the backdrop of World War II and explores how fear, mistrust and corruption can lead to horrific crimes against humanity and egregious abuses of power.  However, unlike many of the other works from Tezuka's well-known "Dark Period", Message to Adolf (1983-85) is not entirely bleak.  Throughout the story Tezuka continually teases his reader with the idea that faith in humanity can be rewarded, and evil can ultimately be conquered.  In that way it shows Tezuka's growth as a storyteller, and is rightly deserving of the honour of the "epic" title.
The character of Adolf Kaufmann continues the theme of the corruption of innocence previously explored in Apollo's Song (1970) and Ayako (1972-1973).  He starts the story as an innocent young boy, living in Japan, who struggles with his identity due to his mixed German and Japanese blood.  Although, at first, he opposes his father's Nazi ideals, after having been sent to Germany he begins to adopt the Nazi policies as a result of the massive pressure brought to bear by his teachers and peers.  Yet, on his return to Japan, he is a fully fledged Nazi and proceeds to interrogate and abuse his former friends in his quest to find the incriminating document.  After the end of the war, even though he realizes he has lost all of his colleagues and allies, he continues to fight for his beliefs in the face of defeat  – something which directly leads to the climactic and ultimately tragic ending.  By the end of the story, we have witnessed the transformation of an innocent and idealistic boy into a highly destructive and brainwashed Nazi enforcer.  This change is highly disturbing and prompts the reader to consider how easily people can be manipulated and changed under overwhelming pressure from controlling governments and aggressive ideals.
As a late career adult work, Message to Adolf (1983-85) certainly relies less on Tezuka's Star System cast than his other earlier works.  However, as another sign his renewed confidence as a storyteller, and unlike most of his "Dark Period" works – they're there.  Acetylene Lamp is once again up to no-good as a member of the Gestapo (and Adolf Kaufmann's boss) in pursuit of Sohei as he attempts to find the document.  Hamegg also makes a welcome appearance as a corrupt Japanese police inspector.  His tour-de-force performance after being captured and driven insane is arguably the finest and most in-depth of his entire long career.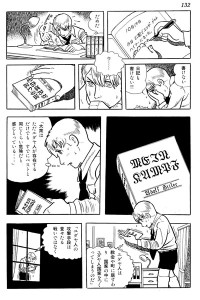 Always on the lookout for a good story idea, Tezuka apparently came up with the concept forMessage to Adolf (1983-85) after reading that an American scholar had theorized that Hitler's ancestry included mixed Jewish blood.  So he decided to craft a story based on that premise and then incorporated the real life figure of Richard Sorge, a Soviet military intelligence officer who had always interested him, into it.
It is also interesting to note that since much of the story takes place in Kobe – were Tezuka lived as a boy  – Message to Adolf (1983-85) captures much of the authentic World War II-era atmosphere of Kobe.
Finally, during the latter half of the series' production, Tezuka suffered from hepatitis and was admitted to hospital.  As a consequence, some of the later chapters were initially cut back but were then later revised for the compiled book edition.
Where you can get it
One of the very first Tezuka series to be published in English, VIZ Media decided to release Adolf in 1995 through it's Cadence Books imprint.  This five-volume (though unnumbered) set used photo-realistic rather than Tezuka-drawn manga covers, and is long out of print.
Luckily, however,Vertical Inc. also released this series in 2012 under the title Message to Adolf in a two-volume hardcover edition.  Completely re-translated, it is arguably much closer to the original Japanese version, incorporating many of the subtle nuances the earlier translation may have glossed over.